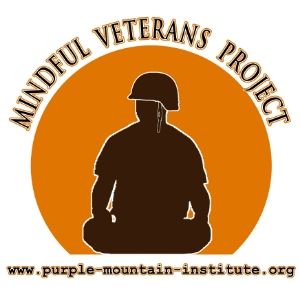 Mindful Veterans Project℠
The Mindful Veterans Project was founded in 2008 by Richard Vandemark
and Dr. Teri Davis to teach Mindfulness-Based Stress Reduction classes to veterans, active duty, reserves, national guard, and their immediate families. We began with half a dozen veterans per class, with classes offered four times a year. We now teach fifteen classes a year with up to 30 veterans in a class and are getting referrals from the Southern Arizona Veterans Administration Healthcare System, the local Vet Center, Davis Monthan Air Force Base,

private providers, our own direct outreach, and word-of-mouth.
Your donations allow us to continue teaching these classes and growing.
WHAT IS MINDFULNESS?
The awareness that emerges from paying attention on purpose
to the unfolding of experience moment by moment.
Quite simply -- present moment awareness.
WHY BOTHER?
Science shows mindful traits to be beneficial
for the mind, the body, and relationships.
Mind -- increased sense of well-being, deeper sense of purpose, equanimity and increased resilience to stress.
Body -- brain growth and changes, normalizing of blood pressure and heart rate, increased immune functioning.
Relationships -- enhanced relational health, increased empathy and enhanced capacity to be open to the internal states of ourselves and others and to respond in a more accepting and loving way.
WHAT OTHERS HAVE TO SAY
"It's like the thoughts lost their hook. Before they were just ripping me.
With mindfulness, it opens up the blinders and you realize (those thoughts) are not the totality of your existence forever."
OIF/OEF graduate of an MBSR class
at Pugent Sound VA
"Military training often teaches us to react quickly with learned, automatic responses. While that is useful in many combat or police situations, it can be counterproductive in other areas of our lives. MBSR makes you aware of the benefits of response vs reaction. It increased my awareness of many things and reduced my tension. I am confident that I will continue to see improvements if I continue the practices I learned in the program. The facilitators are very experienced and knowledgeable - they create an environment that made it easy for me to learn and share."
graduate of a Mindful Veterans Project MBSR class
"I am a 17 year, military minded E-6. I thought I could deal with things myself since I had been for a very long time. With help I found out I was broken even though I thought I had it together. I did break fully and this program has helped me handle my stresses in a new way that the other stress relievers could not. I recommend giving this program a try. Good luck."
graduate of a Mindful Veterans Project MBSR class
"I got alot, I know I can stay in the moment and not bounce around in my head so much!"
graduate of a Mindful Veterans Project MBSR class
"If we are to protect the freedom of our nation, we must move beyond simply having a sound body to a holistic view of health and fitness that includes both mind and body. Such a shift is essential, perhaps even for our very survival."
Admiral Michael Mullen
Chairman, Joint Chiefs of Staff
"With MBSR, we may have the ability to teach our returning soldiers the skill to control their reaction to those painful memories without the use of medication, and before the stress from the memories causes further damage."
Doug Bremner, MD
Director, Mental Health Research, Atlanta VA Medical Center
"Mindfulness is a learnable set of skills, involving ongoing, moment-by-moment focused awareness and openness to the here-and-now, without judgment and with acceptance. It is, in some sense, the polar opposite of avoidance."
John Briere, PhD
Director, Psychological Trauma Program, LA County-USC Medical Center